Daniel Fox
I am definitely a "car guy" and have enjoyed owning some interesting vehicles. Ever since I can remember I have been fascinated with DeLoreans: the history, the man, and of course, more than anything, the car itself. It was not until late in 1999 that I started looking for that perfect DeLorean "semi-seriously". In December of 2001 I found out about the Arizona DeLorean Club from a past-member and I attended my first meeting. Once I met all of the members, and saw the largest gathering of DeLoreans I had ever seen, I knew it was the right time. At that point, I started looking for a car very seriously. About two weeks later I found my current DeLorean.
On January 2, 2002 I went to Scottsdale, after seeing an ad online, and test drove what would become the most fun and frustrating vehicle I have ever owned. My car is an '82, VIN 10920, built in Dec. '81, with the gray interior and the 5-speed. I purchased it from the second owner. It was an unmodified original car with only 24,160 miles on it! Much to my amazement, this Arizona car still had the original fan-fail module, plastic coolant bottle, and plastic clutch line!
In the last few years I have had my car at many car shows and have won some trophys! I received the first place trophy in the DeLorean class at the Wheels of Britain Car Show in 2004. I was fifth place in the Master's Class in 2005. I also received fifth place in the Master's Class in 2006. I have received some "fun" awards, such as: the "Widest Car" award, the "Shortest Car" award, and my personal favorite, the "Car Most in Need of Paint"!
Since purchasing my D, it seems like I have replaced, rebuilt, upgraded and/or updated most everything on the car! However, one of the single greatest upgrades to my car is the exhaust! A former member of AZ-D had a professionally-built custom true dual exhaust (including headers) made for his DeLorean. Before he sold his car I purchased it and installed it on my car. The performance gain is nice, and IT SOUNDS GREAT! I also designed and installed my own Electronic Fuel Injection from scratch using a MegaSquirt EFI computer (see my article in Gullwing Magazine). The car runs great, gets even better MPG than before, and has a more "modern" feel to it.
The DeLorean community is made up of some GREAT people, and I am proud to be a part of it. At this point I can't imagine not owning a DeLorean!
Daniel Fox
VIN 10920
License Plate: NOPAINT
http://www.ramblerman.com/DMC/

Me sitting on the most expensive stainless panel on the car :-)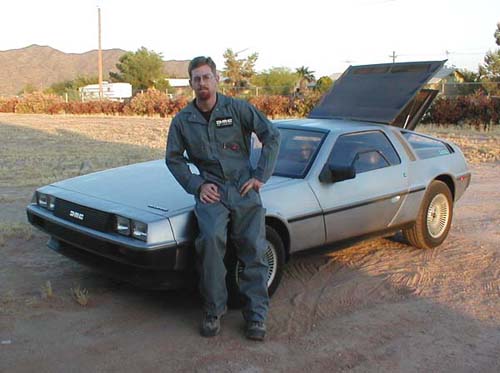 VIN 10920 at sunset: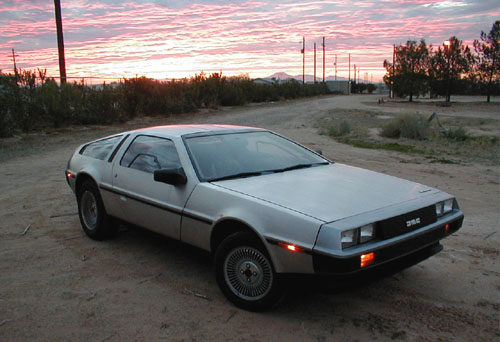 My Bradley GTII, Bricklin SV-1, and DeLorean!